Cell Culture Process Development
Robust and nimble approaches to drug development
Our approach to Process Development is simple: it is all about finding and implementing phase appropriate controls to ensure successful process execution during cGMP manufacturing.
Our complete solutions include process development as well as optimization of fed batch and continuous processes. We offer extensive expertise in insect cell-based production. We have experience with a wide range of expression systems, including CHO, HEK, Vero, MDCK, EB66 and insect cells.
Our solutions are tailored to meet the needs of every program and target molecule – including manufacturing of complex molecules with challenges in scale-up requiring our specialist expertise in custom solutions.
Quality is at the heart of everything we do. Quality must drive all successful production of biologics – from beginning to end.
To ensure this in our work, we use a structured approach and statistical design tools like RAPTATM for Laboratory Process Characterization (LPC) as you approach clinical late phases and commercial production.
Our local specialist teams generate and qualify scaled down-models and fully characterize process parameters in support of process validation. Extensive use is made of DOE approaches, with the support of in-house statisticians.
Ultimately, our goal is to develop high titer, scalable production processes that will express your target molecules efficiently with long-term commercial production in sight.
We offer extensive expertise in insect cell-based production. We have experience with a wide range of expression systems, including CHO, HEK, Vero, MDCK, EB66 and insect cells
From transfection to RCB in 10 weeks
Today, the quality and productivity of CHO cell lines are less of a problem than time because of the classical bottlenecks in production.
Read more
Process Development based on CHO
Chinese Hamster Ovary (CHO) cells are able to produce humanized recombinant proteins with similar post-translational modifications. Something microbial expression systems often cannot do. Moreover they grow faster, show higher protein productivity and are easier to process than other mammalian cell lines. CHO cells are well established in the industry as they are well characterized with hundreds of CHO expressed molecules in the clinic. In fact, CHO cells have emerged as the gold standard expression system in biotherapeutics production, including mAb and non-mAb.
The challenges of working with CHO
The main challenges of working with CHO are related to process development and include:
Achieving desired product quality attributes
Reliable process scaling (up/down)
Robust upstream process (which is the purpose for QbD)
Harvest challenges with high density process,
High yield challenges to downstream
We bring experience and knowledge to your CHO program
Our experience is unsurpassed. Having worked with many CHO programs over the years, we can bring vast experience, insight and significant expertise to your program.
Long experience in diverse CHO cells/processes (e.g. media toolbox)
We are very familiar with an extensive number of molecules expressed in CHO, including monoclonal antibodies, bispecifics, mAb-like and Ig-fusion molecules.
Inhouse capabilities in both traditional stainless steel production and single-use systems which is becoming a significant manufacturing platform in the cell culture space
Process Development based on Insect Cells
Insect cell lines and Insect Cell Expression Vector systems are capable of producing proteins that are very large in size. These systems are also capable of producing multi-protein subunit complexes such as Virus Like Particles (VLP) which are known to induce broad and strong immune responses, making them ideal in vaccine production.
Another advantage of insect cell systems is that they can modify proteins post translationally, e.g. phosphorylation and glycosylation. Even if the posttranslational modifications (PTMs) are usually not at the same extent as higher eukaryotes such as CHO. This is an important property making them useful in the manufacturing of certain biologics.
Working with insect cell expression systems can be just as straight forward as it can be complicated. The insect cells are grown to a desired cell density, before they are infected with a recombinant baculovirus (i.e. BEVS) containing the gene of interest. The cells can then produce the product intracellularly or extracellularly. But there are many challenges on the road to full cGMP production.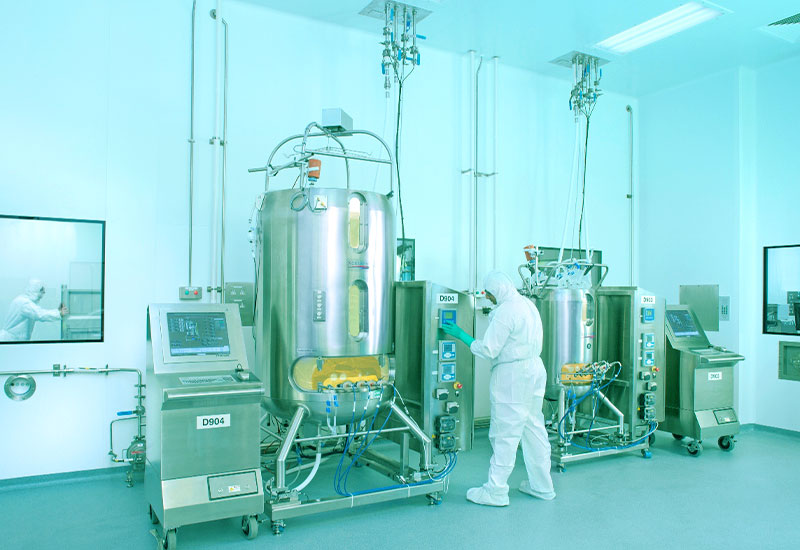 The challenges of working with Insect Cells
There are a few challenges when working with baculovirus expression vector systems (BEVS) that should be kept in mind. BEVS are not able to fully glycosylate proteins. This means they are not a suitable system for the expression of antibodies.
From an Upstream Development perspective, media selection is an area that must be carefully considered. In our experience, chemically defined media does not work well in Insect Cell Cultures.
Purification can also be challenging, mainly due to the low expression levels achieved by BEVS, especially when there is a capture step in the purification scheme. This also means that the purification of BEVS often involve very drastic changes of scale. What may start as large volume process – often becomes a very low volume process, within a few units of operation. Because of this, having a solid and experience Downstream Development team is very important when working with BEVS.
We bring 20 years of experience to your Insect Cell expressed program
We bring over 20 years of hands-on insect cell development experience to your program. We have a deep understanding of the challenges and the expertise to make your insect cell program successful in, not only development, but all the way through to cGMP production, executing validation campaigns, BLA support and commercialization.
The use of BEVS as an expression systems is still mainly academic. Information about production optimization in large scale and cGMP setting is usually minimal.
For all of these reasons you should consider hiring an experienced specialist team.
FUJIFILM Diosynth Biotechnologies is a licensed manufacturer of a commercially approved baculovirus expressed product.
Contact us