End-to-end Cell Therapy CDMO Solutions
As a CDMO Partner for Life™ our goal is to advance your cell therapies from lab to commercial scale leveraging our CGT expertise and global cGMP network. As a patient-driven organization delivering the highest quality cell therapy manufacturing solutions is our priority.
ADVANCE YOUR CELL THERAPY MANUFACTURING WITH US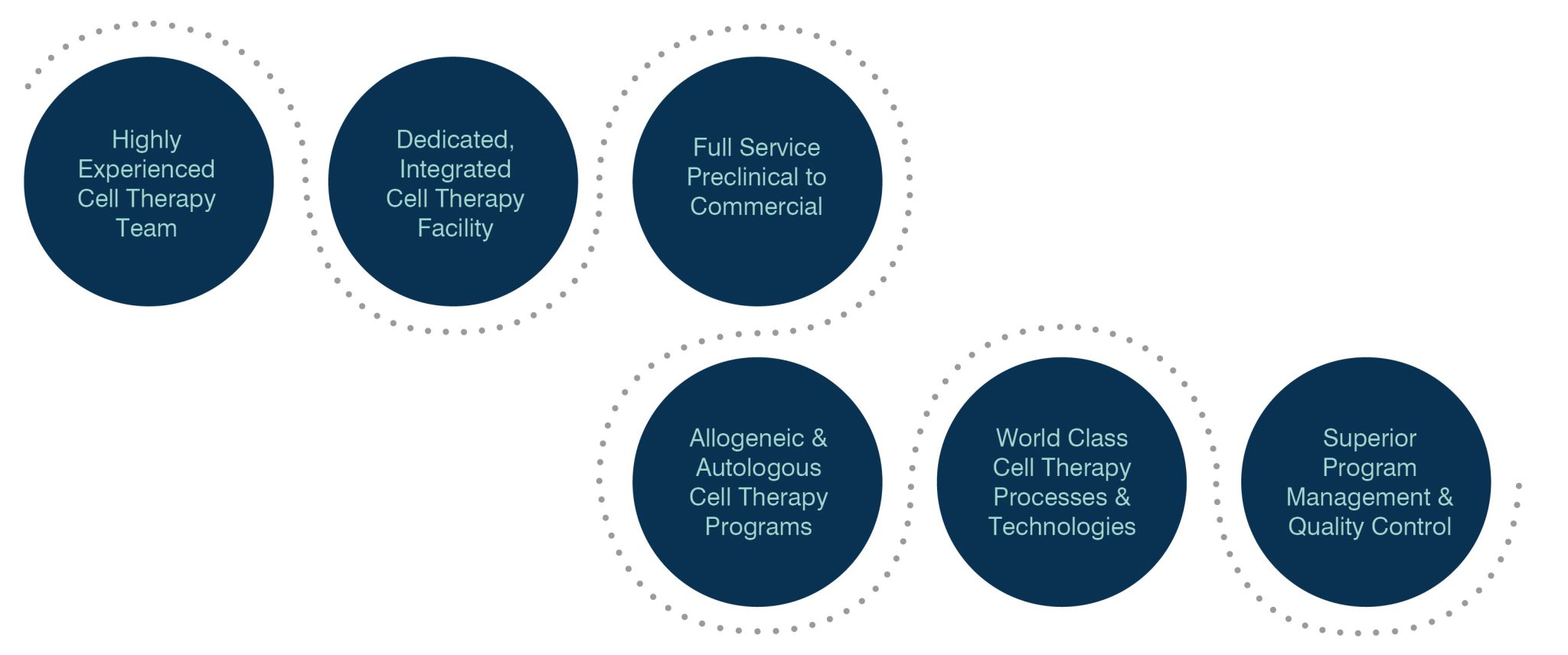 OUR AUTOLOGOUS & ALLOGENEIC CELL THERAPY SERVICES
Types of Cells We Support
Cell Derived Therapies − CTL, CAR, TCR, NK and Tissue-Derived Therapies − Mesenchymal Stem Cell, Hematopoietic Stem Cells, Induced Pluripotent Stem Cells.
Clinical and Commercial Manufacturing​​
Expansive cGMP manufacturing space complete with advanced technologies and electronic batch records to support clinical and commercial production goals at the highest quality.
Supply Chain and Logistics​​
Experience-driven strategies and processes that enable program readiness and execution of manufacturing, disposition, and distribution activities.​ This includes materials supply, assembly, labeling and packaging and cryogenic storage.
Quality and Compliance​ ​
Superior program management, Quality Management System and Quality Control programs designed to ensure product quality meets US and EU regulatory standards, with flexibility to enable clinical and commercial programs.
Process Development and Optimization​​
Highly experienced teams support development and optimization of world class cell therapy processes that meet the needs of our clients, their regulatory phase, and their goals.
Analytical Development and Testing​​
Our scientists can develop, optimize, and validate analytical methods to support client-specific assays – including safety and efficacy assays to enable successful transfer to our QC labs.
Tech Transfer / NPI (MSAT)​​
The depth and breadth of FDB's Manufacturing, Science & Technology program ensures seamless transfer of knowledge from our customers into the capable hands of our cGMP manufacturing teams.​
OUR GLOBAL CGT NETWORK
Our global cell and gene therapy network includes 2 primary production sites and 3 development sites throughout the US and Europe. Our Thousand Oaks, California location is a purpose built, dedicated cell therapy facility for clinical and commercial production. Our Texas facility can address viral vector needs for cell therapies, has produced induced Pluripotent Stem Cells, and has abundant production space to meet scale up goals for our late phase stem cell therapy customers. Support for cell therapy process and analytical development are possible in our Watertown, MA, USA and Darlington, UK sites, and at our Billingham, UK site in 2025.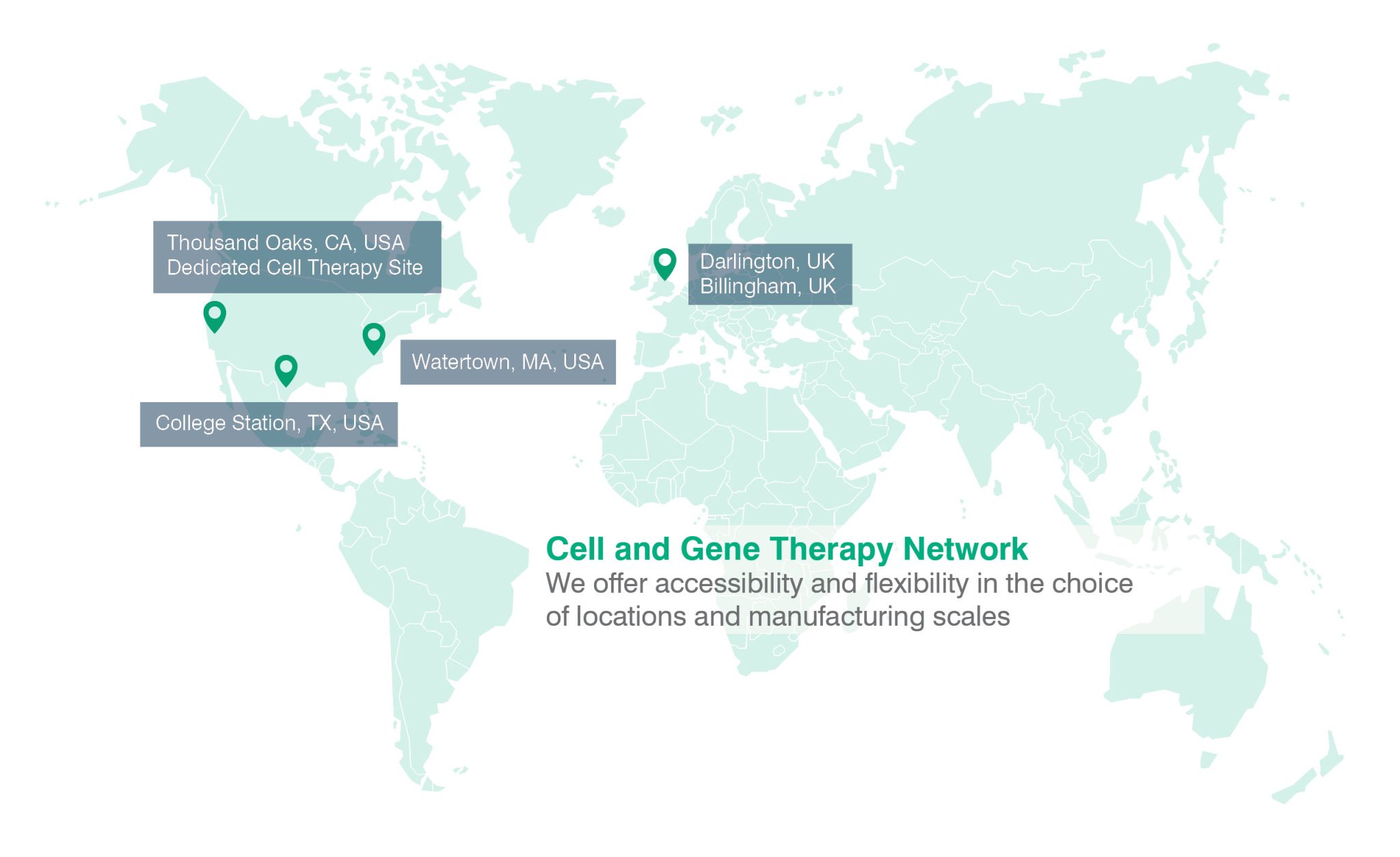 Thousand Oaks, California, USA

Active as an Allogeneic T-Cell manufacturing site since 2018
170+ Skilled Employees
Established Clinical and Commercial Cell Therapy Manufacturing
90,000 sq. ft. Expandible and Flexible
Access to Multiple Regional and International Airports
College Station,Texas, USA
Advanced Therapies: Viral Vectors & Various Cell Lines
800+ Skilled Employees
cGMP Drug Product – Viral Products
cGMP Drug Product – Recombinant Proteins
10,000 sq.ft. cGMP Production Space
Access to Multiple Regional and International Airports
Our strategic PARTNERSHIPS


FUJIFILM Cellular Dynamics (FCDI) offers contract development and cGMP manufacture of clinical-grade human cells to advance cell therapy programs. For over a decade, they have been the industry leader in the development, manufacturing, testing, and distribution of high quality clinical-grade iPSCs and differentiated cells. FCDI's expertise and capacity to produce iPSCs at commercial scale helps speed cell therapies to market.
RoosterBio offers process and analytical development of MSCs (Mesenchymal Stem Cells) and Exosomes (Extracellular Vesicles) followed by seamless tech transfer and transition to cGMP Manufacturing of Advanced Therapies by the FUJIFILM Diosynth Biotechnologies team in our advanced therapies facilities network.
FUJIFILM Diosynth Biotechnologies and RoosterBio announce collaboration to enable cGMP Manufacturing of Cell and Exosome Therapies – read our press release.
Interested in Cell Therapy Manufacturing Services?
We offer industry-leading Cell Therapy CDMO services. Contact us to speak with our experts today.