BIO Digital 2021
June 10-18, 2021
Virtual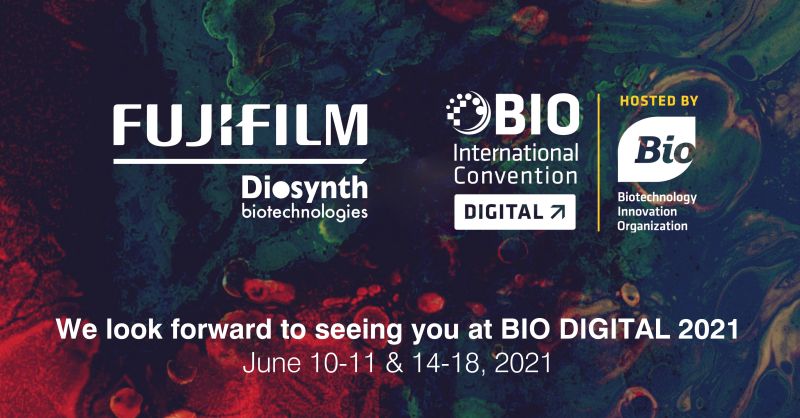 FUJIFILM Diosynth Biotechnologies is delighted to be a sponsor at BIO Digital, June 10-11,14-18, 2021. Join our commercial development team in the BIO One-On-One Partnering to discuss how we can support your clinical journey from pre-clinical to commercialization.

Value from Innovation has long been a mantra of Fujifilm Corporation and at FUJIFILM Diosynth Biotechnologies we have invested to build a strong, science driven, innovation culture which leads to new products, improved staff development and better outcomes on client projects. Initiatives are in place to not only generate and progress ideas internally but also to support underpinning science at universities around the World.
Andy Topping will describe how we have structured our innovation themes and review some of the internal and external initiatives we have in place to build and nurture this innovation culture, including the recently announced Prosperity Partnership with leading UK universities to understand and improve CHO based expression and the strong links between FUJIFILM Diosynth Biotechnologies and Fujifilm corporate R&D laboratories which have led to innovative new bioprocessing solutions.
Join us at BPI Theater @ BIO 
FUJIFILM Diosynth Biotechnologies on-demand presentation featured by Charles Heise, Senior Staff Scientist in the Bioprocessing Strategy & Development group at FUJIFILM Diosynth Biotechnologies, United Kingdom will be presenting: SymphonXTM: a multifunctional Single-Use purification system for connected and integrated Continuous Processing.
The downstream purification system SymphonXTM uses a disposable, generic flow path to operate multiple downstream process unit operations (e.g. Chromatography, Tangential Flow Filtration (TFF), Single-Pass TFF, Viral Inactivation and Viral Filtration).  This presentation outlines the functional flexibility of the system and its advanced Buffer Management capabilities (in-line conditioning and in-line dilution), all contained within one propriety multi-functional hardware, flow path and operating software and its deployment in a continuous process. We present data from a successful non-GMP operation of multiple connected, integrated SymphonXTM skids in FUJIFILM Diosynth Biotechnologies' continuous monoclonal antibody production platform, MaruXTM.  The SymphonX™ design simplifies the single-use consumable supply chain, allows plug and play flexibility across all downstream unit operations and provides a generic operator interface to de-risks execution of complex continuous bioprocessing operations in a multi-product facility.
Click here to find out more: https://www.bio.org/events/bio-digital