Leveraging 20+ Years of monoclonal antibody expertise
Monoclonal Antibodies are among the fastest molecules in development for therapeutic applications. Many companies are building their clinical pipelines around monoclonal antibodies because of their wide range of disease targets, including new areas such as immunotherapies for the treatment of many cancers. Other reasons include relative ease of manufacturing and well established regulatory precedence.
Flexible Solutions for the Efficient delivery of monoclonal antibodies
Programs can start at cell line development or we can transfer in existing cell lines or processes.
Flexible solutions across multiple sites.
Extensive experience at all clinical phases (from pre-clinical development to late phase to commercial production).
Common platforms e.g. GE 500L & 2000L SUBs.
Monoclonal antibody dedicated facilities.
Option to align existing processes with common Fujifilm Diosynth Biotechnologies monoclonal antibody processes to maximize operational efficiency.
A new approach to deliver to monoclonal Antibodies
Fujifilm Diosynth Biotechnologies set out to minimize the host of hazard pathways that can introduce schedule, quality, development, regulatory, and business risks to supply of mAb therapeutics over their lifecycle–from clinical development through commercialization.
Our Saturn™ monoclonal antibody solutions offering was designed from the ground up to deliver dependable supply of these critical therapies. The complete solutions program includes implementation scripts, detailed schedule of activities, standard consumables, advanced analytics, rigorously vetted base documentation, streamlined contracts and attractive licensing terms.
Utilizing the exact analytical and process equipment
We developed a carefully choreography of streamlined activities to be performed by a dedicated staff using dedicated process and analytical equipment.  The process utilizes the exact analytical and process equipment (at a smaller scale) that is in place for the manufacturing scale.  The sequence culminates with a 200L scale run performed on scaled manufacturing equipment.  This data-rich approach to defining parameter space, even for early phase, sets the table for future process validation.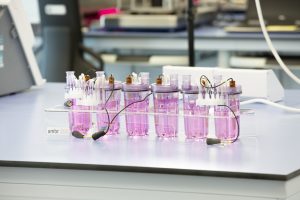 Typically, only small product-specific tweaks are required for a new program and thus only the "deltas" need be transferred to the manufacturing facility.  This recipe transfer is designed to be simplified in order to minimize any unexpected behavior at scale.  The same approach is taken for the analytical methods where method validation is begun at the process development lab and then finished in the quality unit in the manufacturing facility.
High Throughput Manufacturing Facility
Our high-throughput manufacturing facility is scalable to at least 10 x 2000L bioreactors with an additional downstream.  The process is run in a fully single use approach leveraging process closure analysis.  All consumables are maintained in the warehouse onsite with resupply scheduled with the vendors.  As your manufacturing partner, we will assume responsibility for having backup materials for platform runs.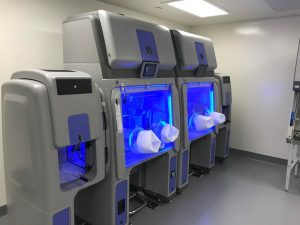 At the completion of a single production run the client may choose to leave with a no cost license to the process and the cell line.  Resupply batches can be made very rapidly as the cell line, batch records and consumables will be in place.  The next open slot can be utilized which should be a short time given that bioreactors can be added as needed to maintain open capacity.
Our Saturn™ mAb Solutions  could be of great value to developers of monoclonal antibody products due to the inherent robustness of the approach and the rapidity of resupply.
Multiple Solutions to meet customer needs
Our customers have different needs, based on the stage of development of their therapeutic mAb candidate. The Saturn™ mAb offering is suitable for customers that do not have an established cell line and are looking for a full service solution that includes cell line development as we can offer our Apollo™ Mammalian Expression System is also suitable for programs that already have an established cell line.
Benefits
Dedicated Saturn laboratories and Saturn GMP production facility.
Designed to support mAb therapies from Early to Late Phase Clinical Stage all the way to Commercial Manufacturing in a high throughput, multi-product facility.
Analytical Platform Methods already developed, ready for implementation, mitigating Analytical Development related risks. Analytical Methods supported by extensive characterization capabilities.
Rapid access to resupply batches.
---