Cell Therapy Manufacturing and Gene Therapy Congress
October 19-22, 2020
Virtual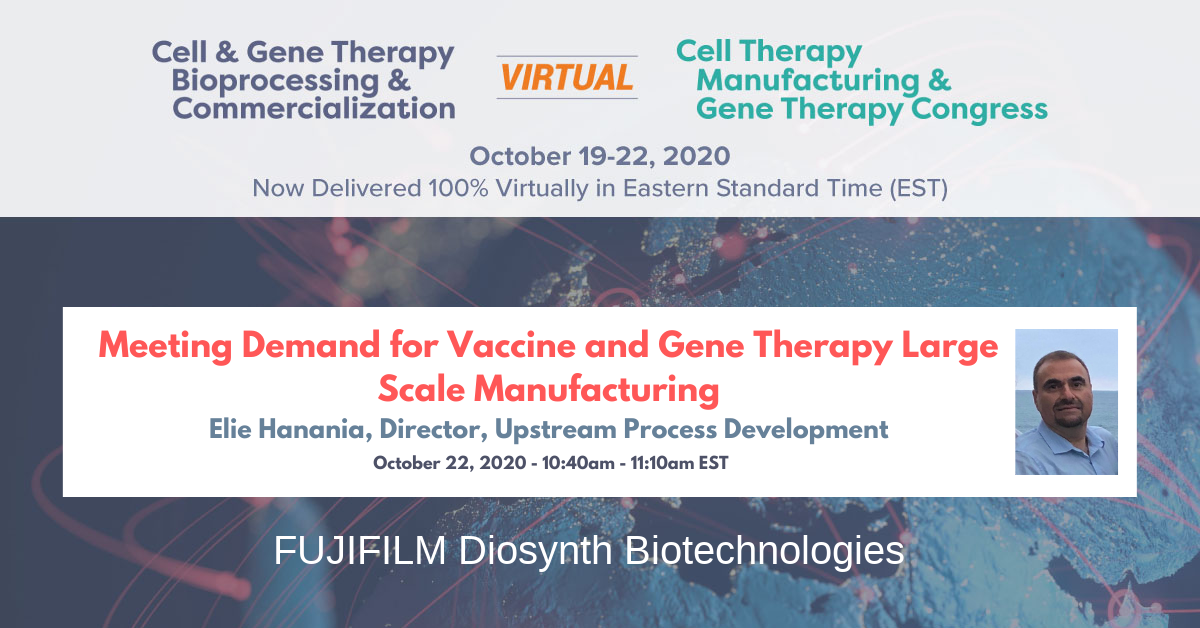 Come visit our virtual HUB at Cell Therapy Manufacturing and Gene Therapy Congress 2020 October 19-22, 2020. Connect with our Commercial Development team to learn more about FUJIFILM Diosynth Biotechnologies capabilities.
Your Invited to Attend:
Date: October 22, 2020
Time: 10:40 am-11:10 am EST
Speaker: Elie Hanania, PhD, Director, Upstream Process Development,
FUJIFILM Diosynth Biotechnologies
Title: Meeting Demand for Vaccine and Gene Therapy Large Scale Manufacturing
Abstract: Advancement in Gene Therapy Applications resulted in targeting wider and more common disorders (genetic, oncologic and neurogenic) compared to simple single-gene defects. To meet such demand, large scale manufacturing becomes a key requirement. Space, equipment, supplies and resources are key consideration for Contract Manufacturing Organizations (CMOs) to meet the required production scales. Securing raw materials and single-use technologies are the target for a stable supply chain needed to support the production scale and frequency. Processes (and associated testing) must to be well defined, robust and reproducible in order to generate products that meet quality standards. Implementing new technologies and process enhancements will help support scale demand, production frequency and campaign programs. Early engagement of a CDMO is an important factor in the pathway leading to commercialization. Adequate timing for process development, clinical scale production, process characterization and validation has to be taken into consideration when plotting the path to commercialization. The latter can be accelerated when leveraging CDMO's platform processes with established starting materials. A similar approach is needed for vaccine production especially when dealing with global viral breakouts or pandemics. Advances are being made in generating stable producer cell lines for viral vector manufacturing – an approach that will extend production scales to the next level.
To register and for the full agenda please visit Cell Therapy Manufacturing and Gene Therapy Congress