Advanced Therapies Congress & Expo
May 24-25, 2022
London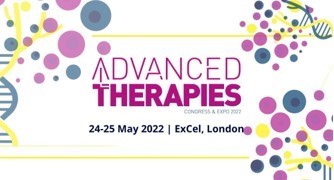 FUJIFILM Diosynth is excited to be a sponsor at Advanced Therapies Congress & Expo, May 24-25, 2022 at ExCel, London. Stop by booth #56 and meet with our team to learn more about FUJIFILM Diosynth Biotechnologies' capabilities and how we can help you advance and deliver tomorrow's medicines.
Join our presentation May 24th at 15:10
Michael Baker, Senior Director Viral Gene Therapy, FUJIFILM Diosynth Biotechnologies, UK will be presenting on: Shaping the future of Viral Vector Manufacturing using a platform approach
This presentation will provide an overview of FUJIFILM Diosynth gene therapy capabilities and  illustrate how the FUJIFILM Diosynth Biotechnologies AAV manufacturing platform is helping clients achieve their clinical goals, including:
Access to an AAV manufacturing platform which includes a fully characterized, suspension adapted, clonal HEK293 cGMP cell line together with research and cGMP-grade Rep/Cap, Helper, and GOI (backbone) plasmids to accelerate early process development
Comprehensive analytical methods to support phase-appropriate product characterization and batch release testing.
Access to a comprehensive, end-to-end service offering for drug substance and drug product manufacture and an integrated manufacturing network which can support process scale up, with the flexibility to meet clinical and commercial product demand.
Click here for the complete agenda and registration