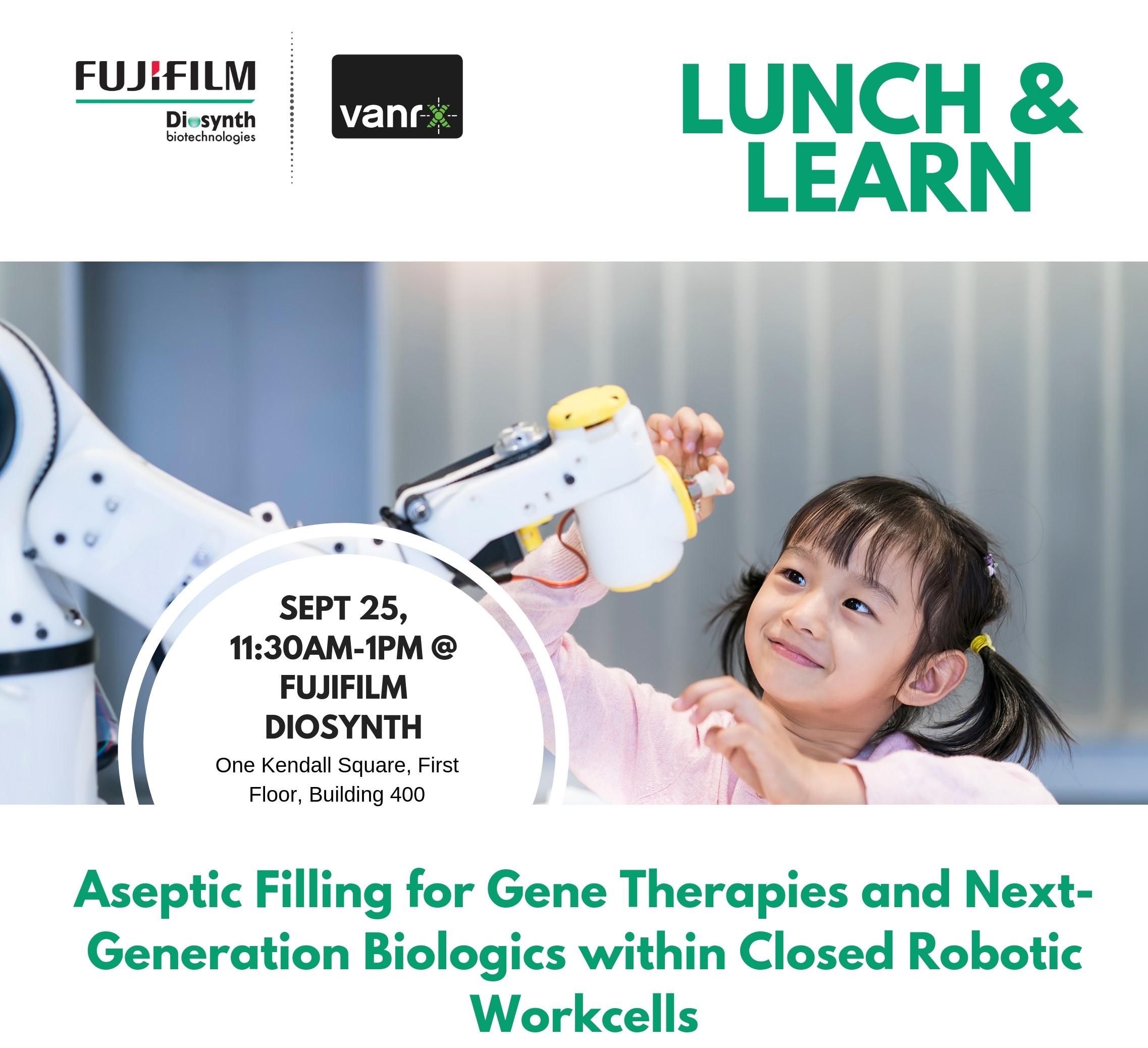 Sep 25, 2019
Cambridge Collaboration Center, Cambridge, MA
Aseptic filling for gene therapies and next-generation biologics within closed robotic workcells
Presented by Fujifilm Diosynth Biotechnologies and Vanrx Pharmasystems
Fujifilm Diosynth Biotechnologies (FDB) sought to "close the loop" by having all upstream and downstream aseptic processing operations within closed systems. The missing part was downstream, where FDBT implemented a closed robotic filling workcell for the manufacturing of gene therapies.
Workcells solve long-standing problems with sterility assurance, containment and process control in aseptic filling. The knowledge developed by FDB in its implementation and early use of a closed workcell can benefit organizations developing new drug products.
Participants will learn about the following topics:
Transitioning to a fully closed, robotically driven aseptic filling process
Removing the human from the process for 'touch-less' filling
Hazard pathways and managing risk to drug products
'Closure by design' for product safety and integrity in vials
The presentation will guide participants through process data from Fujifilm Diosynth's College Station, Texas manufacturing operations. There will be an extensive question and answer session about the use of closed robotic workcells at Fujifilm and other members of the Vanrx User Group.
Presenter: Thomas Page, Vice President, Engineering & Asset Development, FUJIFILM Diosynth Biotechnologies
Thomas has over two decades of experience in biotechnology spanning discovery to commercialization. He has held positions of increasing authority responsible for development, technology transfer, validation, and operations. He has designed facilities for multiple companies, authored patents and presented extensively. He is active in BPOG and other organizations and serves on scientific advisory boards for developing companies. He currently serves on the FDBT leadership team and is responsible for TBF-100 manufacturing, late phase fill-finish, facilities, engineering, automation, validation and EHS.
A light lunch will be served.